In April 2017, our local meditation group went to the mountainous town of Da Lat for a three day retreat. There, we stayed in lovely small cottages at a Buddhist Pagoda, ate great vegetarian food, caught sunrise together in the bell tower atop the mountain, and used the great hall to re-watch and experience the Heartfulness Masterclasses as a group.
It was an awesome weekend.
On the second day of the retreat, I had an interesting conversation with one of the participants. He's an incredible young man who approached me in 2016 at a Story Slam at a bar in Saigon after I spoke about my first trip to India.
This guy is enviably armed with a massive heart and keen intellect and extraordinary business acumen.
He is also so into meditation and living a life of spiritual values (read: intense in a way that I love), and I always leave our conversations inspired and thinking: "When will I have an inner simplicity like his?"
On this particular day, he shared with me how he had – again! – spent the morning meditation session praying for a Master or a path to appear to him, that he was in pains still searching for his path forward.
When will my searching end!? he asked me with a great lightness, good humor, and obvious longing.
Given his rich Buddhist background and at that point nearly a year of Heartfulness practice, I was really surprised to hear him say this.
Still searching!?  I thought. Really!?!?!?
After all, I thought he had found his path already!, especially since we saw him really take to the practice and growing and opening up as a result.
So, I didn't immediately respond to what he said, and instead took the rest of the day to reflect.
Then, an answer came to me.
But First, A Cinematic Interlude
One of the most memorable movie scenes I have ever seen comes from the terrific film 500 Days of Summer. The subject, Tom, is hopelessly in love with the elusive Summer.  He repeatedly ignores her rejections of deeper commitment, living in a self-made delusion that sets him up for eventual, devastating heartbreak.
After they finally do breakup, Tom runs into Summer at a wedding where they share an amiable evening. From there, she invites him to join a party she's throwing the week after.
The resulting heartbreak he undergoes is felt even more profoundly due to the cinematic mastery it's told through:
In short: Tom attends the party under the assumption of reuniting with Summer, but, upon seeing her engagement ring, he is finally forced to accept the reality that she is not into him.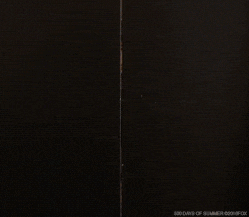 Ouch.
Thing is, We're All Full of (Media) Expectations
If I ask you right now to imagine what Meeting a Master or finding your path should look like, what do you see?
…
My guess is you see:
Some kind of struggling person

Some kind of scene out in nature such as at or near water, in a forest, or mountains, with or without fog

Large stairs or a temple of sorts

Someone or some figure who is probably old, looks out of the ordinary, is wearing a cloak or "foreign" mark of some sort, and also looks wise (if not weird),

When they speak they do so with high confidence, though not really making a lot of sense.
Am I right?
That's because I'm pretty sure the scene your thinking of looks like this:
And has elements of this & this:
And, of course, some of this:
If you're more practical and down to earth, then perhaps what you're seeing is a little bit more quotidian and instead looks like this:
The above is bad enough! But, we further expect such encounters to have "Our Eyes Opened" by something brilliantly spiritual/otherwordly, immediately affirming their learning/spiritual level/validity of the path to us like this!
We see elements of these stories in our own projections because, as Teju Cole so brilliantly writes towards the end of Open City, we always think of ourselves as:
"…the hero, and in the swirl of other people's stories, insofar as those stories concern us at all, we are never less than heroic. Who, in the age of television, hasn't stood in front of a mirror and imagined his life as a show that is already perhaps being watched by multitudes? Who has not, with this consideration in mind, brought something performative into his everyday life?"
Thus, we've seen others' Hero Journeys so many times that we think we're going to have something dramatic happen in our own lives to initiate our own quest.
Let's Get Real(ity).
I hate to break it to you, but you're not:
Neo

Luke

Bilbo

Po

Strange, or

Daniel
And, odds are that you won't soon be:
Saving humanity from being harvested by robots for battery power

Saving the galaxy by brining balance to the force and defeating the Sith

Saving middle earth by finding and ultimately destroying the Ring of Power

Becoming the Dragon Warrior and defeating evil warriors of various stripes

Winning the local, very public and highly attended Karate championship against your arch rival and getting the girl of your fancy.
…all in the span of 90-120 minutes, no less!
Our lives have a lot of drama, but they are not dramatic nor scripted.
While it would be far easier to recognize the start of our journey by plucking Excalibur from the stone or taking the red pill, that's…highly unlikely.
Back to My Friend on the Retreat in Da Lat
This is what I realize is happening with this nice young man. He has such high expectations for what the initial kick-off to the journey should look like, that I think he is being blinded to what might actually be happening with him at present.
Note: I am not saying that I 100% believe my path is his. Further, meeting with your Master the first time is a truly special experience. But, stumbling on to your path is exactly that – stumbling! 
And, let's be real: the first meeting with the Master (any master) won't be as dramatic as Dr. Strange's, above.
In short:
I found my path on a rainy Sunday morning in Shanghai at my yoga studio in 2007 when I accidentally saw a group meditation happening before my hot power yoga class.
My wife found her path in 2010 when her boss convened a last minute meeting and introduced everyone to a visiting meditation instructor.
A friend of mine found his path in 2006 via an ad in the Pennysaver while waiting for his clothes to dry at the laundromat.
And I have heard countless other very undramatic stories typically involving a friend introducing a friend to a local instructor.
In retrospect, these stories become dramatic, because years later we can see how truly profound those innocuous moments proved to be.
But, in the moment? … Just a day in the life, if not worse!!
So, sans fog, grey beards, mystical experiences and winning the girl or boy of one's fancy, to my dear friend here in Saigon, and the many others like him I've might and will surely meet:
Might it also be it also a great story – the kickstart of your own spiritual epic – that you found your path in a packed bar at a story slam on a random Saturday night in Saigon?
Or through a friend of a friend on a Tuesday afternoon?
Or via a poster at the local coffee shop?
Because to me – given what you stand to gain as a result – that's already pretty epic.
Warmly,
Trevor